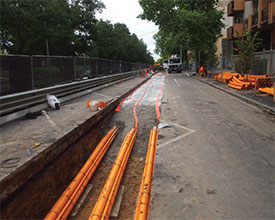 Challenge:
Automating the thousands of Dial Before You Dig requests currently manually processed. The manual process consumed considerable resources and the responses were not easily accessible for investigations or management.
Solutions:
X-Info DBYD was implemented, automating the current DBYD laborious process. More critically, the new system had the ability to connect to their SmallWorld<sup>®</sup> object based GIS. Extracting and packing the key cable plan documents from their Project Wise document store was also a solution winner.
Result:
CitiPower and Powercor now have the ability to automatically generate responses to the thousands of requests received per month. The original large, labour intensive process was replaced with a single system that now delivers multiple business benefits – contracting effort and expanding results.
CitiPower and Powercor
Embracing the X-Info DBYD automated system
CitiPower and Powercor Australia are electricity distributors covering 35% of Victoria. Their core business is to manage the poles, wires and equipment that deliver electricity to homes and businesses in Melbourne and through central and western Victoria. Responsibility for the quality and reliability of their customers' power supply is first priority, and accurate DBYD responses are a critical tool to service delivery. Previously, CitiPower and Powercor used a team of contractors to process thousands of requests per month. Although systems and standards were already in place, the process consumed considerable manual resources and the end results were not easily accessible for investigations or management.
Working in close conjunction with CitiPower and Powercor technical experts, Mipela GeoSolutions was able to develop an updated software version to deliver these critical requirements. With the core system architecture in place, Mipela GeoSolutions worked alongside CitiPower and Powercor business owners to translate electrical engineering protective measures into automated X-Info DBYD parameters. Complexities included fail-safes for data discrepancies, alternate notifications for "Too-Large" request areas and packaging multiple emails into manageable email sizes. Functions which are now incorporated as a standard in the new X-Info DBYD version 5.5.
After Go Live in December 2013, CitiPower and Powercor immediately realised the benefits and potential of the system. Customers recognised and commented on increases in response time (reduced from 1 day to 15 minutes). Resource allocations were diverted to pro-active measures such as customer support and process improvements. The simple X-Info DBYD Management Console proved to be a powerful internal tool allowing seamless access to critical cable plans and documents during investigations and Permit to Works approvals. Management could also generate reports on demand showing full process history.
The instant and obvious benefits to cost, customer service and administrative transparency have triggered the CitiPower and Powercor management team to look for further business applications.