Q1: What are some of the new features available in XIC v5.0?
A1: XIC version 5.0 introduces an additional customisable module which includes Activities; global or contextual, as well as some more additional features and a new look with updated icons.
Q2: What are Activities?
A2: Activities are common things a user might do in Connect. These could include; finding a land parcel, adding a communication, completing assigned tasks or updating contact information. They can be customised for specific Users and Groups, so only the relevant information is seen. Activities give users an easy way to complete the tasks/common processes in Connect without having to navigate through the customary Connect Explorer.
Q3: What are the differences between Global and Contextual Activities?
A3: Global Activities are things that can be done for the whole connection, including searching for contacts or communications, or adding a land parcel. Contextual Activities are things that can be done for specific objects (projects, linked entities, communications, contacts etc.), including completing an assigned task or updating contact information.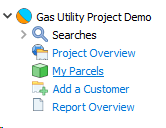 If you would like further information or assistance on X-Info Connect version 5.0 please contact the Mipela Support Team at support@mipela.com.au.