Q: What can I do with a Search Activity?
A: The Search Activity enables a user to quickly search data through a customisable interface. A Search Activity can be constructed with parameters pre-determined and filters already set, allowing for quicker searching without having to make manual adjustments, eg. quickly finding a client's company trading name.
Typically a user would have to search by using a pre-configured Quickfind or manually tailor the Find options to narrow down the search: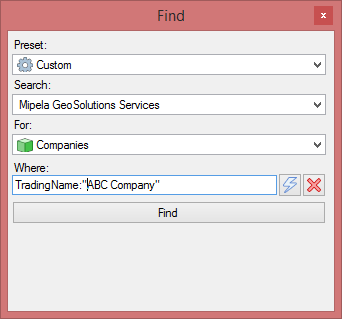 With Search Activities, we can take a quick find and make that into a hotlink with all the filtering applied and easy to access:

Both methods will produce the same results, but the Search Activity is one click!
If you would like further information or assistance on the Search Activity please contact the Mipela Support Team at support@mipela.com.au.