X-Info Connect v6.4 Release
Mipela GeoSolutions are releasing the latest product versions for X-Info Connect and X-Info WebConnect in April, 2022.
Version 6.4 of X-Info Connect and X-Info WebConnect will include some exciting new features such as:
Save Draft Activity
This feature allows any global capture activity to be saved during the capture process so users can return to the capture later. A draft version of the activity will be saved in the current state and stored in a folder under the main activity.
Users simply click on the draft version to resume data capturing.
Note: This is only available in X-Info Connect Client (desktop application).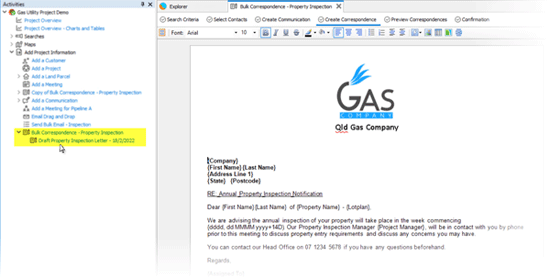 Export Data to an Esri REST Service
A new OutConn type has been added to the export function to allow data and geometry (points, lines and polygons) to be exported to an Esri REST Service.
Create and Send Bulk Emails in WebConnect
This feature was released for X-Info Connect in v6.3 and will be available in X-Info WebConnect version 6.4.
The bulk email activity enables workflow from start to finish to search and select one or many contacts, review and edit details that have been predefined for an email, using a rich text editor and preview the details before sending or saving. A configurable communication is created that records the email.
Enhanced Map Performance
Improvements developed in map functions and rendering of layers from this version and previous versions have enhanced the performance and usability of the map with a map activity or layout.