Mipela GeoSolutions have released the latest product versions for X-Info Connect and X-Info WebConnect, version 6.5. It is available now.
Watermark in Templates
This feature allows a Watermark to be applied to any report template. The Watermark text is configurable and an expression can control when the Watermark will display in the template.
Note: This is only available in X-Info Connect Client (desktop application).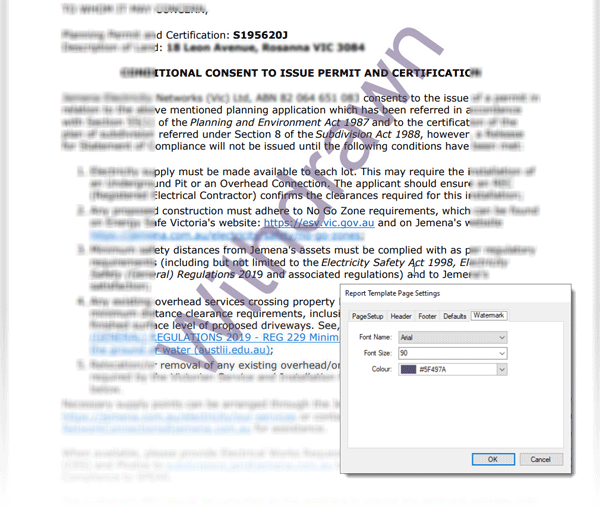 Run Action Activity Type
A new Activity type has been added to run different actions within a Connection. These can include running a Task, importing or exporting data, generating a report and synchronisation of Users and Groups.
Map Search
A multi-layer search is now available in X-Info WebConnect when searching for information in a map. Searches can be customised to include one or many layers and display search results. Users can enter text to search across any of the layers included in the map search.
Enhanced Map Navigation
Navigation in a Map has been enhanced to enable Users to return to the starting location. As Users navigate and pan around a map, the ability to return to the start location, or Home, is now available in the context menu.
Enhanced Data Display – Search Results and Tables
Enhancements to the X-Info WebConnect User Interface have been developed to provide adjustable column widths and infinite scrolling for data display in search results or in a table.
When a Search Activity displays results, or data is displayed in a table, the columns widths can be adjusted by the User, allowing resizing to any desired width. Infinite scrolling has also been implemented allowing Users to continually scroll through records, rather than paging through results.
Integration with SPEAR System
SPEAR is an online system that allows the workflow process of Surveying and Planning permits and applications to be tracked, from lodgement to approval. The aim is to manage the process online with Land Use Victoria. X-Info Connect has been developed to integrate with the system, enabling management of the process to be recorded and updated within a Property Management Connection.