Mipela GeoSolutions have just released the latest product versions for X-Info Connect and X-Info WebConnect. Version 6.2 of X-Info Connect and X-Info WebConnect contains a large amount of great new features, which include:
Open Records After Capturing
Capture activities can now be configured to display the record or data captured when complete. This is a valuable feature that can enable continuous workflow for users. The object relating to the data will be displayed once the User selects done for the activity.
Website/URL access within an Activity Layout
A website control can be added to an activity layout to display a defined URL within the layout. When the activity is displayed in the layout, Users can actively use the website, providing access to other external information.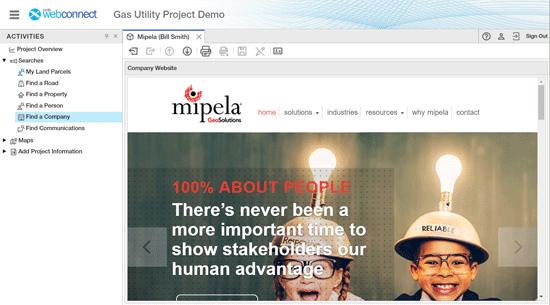 Editable Rich Text Fields supported in X-Info WebConnect
Rich text fields used in an Activity are now editable within X-Info WebConnect. This allows the data captured access to styling and formatting tools along with adding images and tables.
Multiple Sort Columns in Searches
Search results can be displayed by multiple sort ordering. Configuration of search results allows one or more fields to be selected to define sort order of results.
Export Tables and Lists to CSV
Search result lists and data displayed in a table can be exported to a csv file for external use. This is available as a button (for search results lists) or within the right click context menu. All columns and records displayed within the table, including additional pages, will be saved to a csv file.
Drag and Drop Emails to Add as Communications
Emails from Microsoft Outlook can be added as communications to capture activities using drag and drop functionality. When configured, Users can step through a workflow that allows an email to be dragged into a communication capture. This will add all relevant communication details such as Subject, Description and Attachments automatically.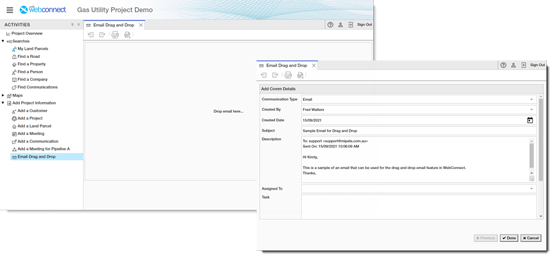 Create and Send Bulk Emails
This feature enables workflow from start to finish to search and select one or many contacts, review and edit an email subject and body that has been predefined from a template, using a rich text editor, preview the email and communication that is created as a record, edit individual emails within the bulk selection and send the emails. A configurable communication is created that records the email action sent to the recipient/s for each contact.
Our Client Success team will be in touch soon with more information and to offer demos of these new functions.