Something GISsy
GIS Trivia: Australia's HOW big?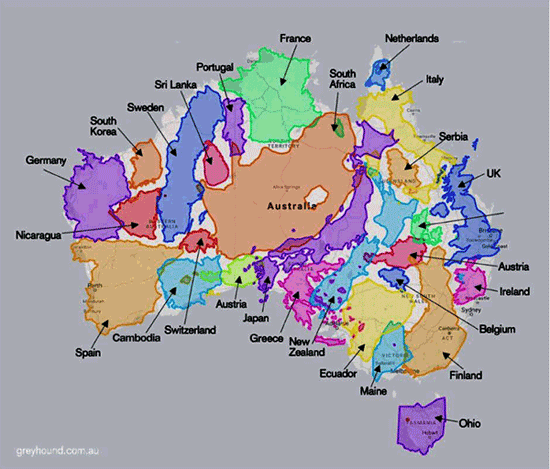 Overall, Australia is the sixth largest country in the world after Russia, Canada, China, the USA (including Alaska and Hawaii), and Brazil
The land area of Australia is 7,682,300 square km. This represents 5% of the world's land area.
Australia is the world's largest inhabited island and the smallest continent
The Australian coastline totals 36,735km (ask the Mipela-MAD cyclists!)
Australia's Highway 1 is the world's longest national highway road in the world. It has a length of 14,500km.
The Great Barrier Reef is the longest coral reef in the world, extending over 2,012.5km
Between the towns of Ooldia and Nurina in Western Australia, is the world's longest straight stretch of railway, 478.4km in length
Dingo Fence of Australia is the world's longest fence, its 5,331km in length. The Dingo Fence is a 'pest-exclusion' fence built in the 1880s and completed in 1885. Its main purpose is to shield the fertile south-east part of Australia from dingoes. The Dingo fence is longer than the Great Wall of China.