We all LOVE GIS data. "Everything happens somewhere". But what happens when you get some really cool "data" for your project, eg. Roads.gpx? What is a .gpx file? The following is a quick 101 summary of some common vector file formats.
Shapefile (ESRI)
A shapefile actually consists of several files.
Mandatory
.shp file containing the feature geometries
.dbf file containing the attributes in dBase format
.shx index file.
Optional
.prj which contains the projection information
.xml is the associated metadata.
.sbn is the spatial index for optimizing queries.
.sbx optimises loading times.
If you ever receive a .shp only you will need to request that all three  files are sent in order to use the data. Recommended that the .prj is also mandatory.
.tab file (MapInfo)
MapInfo .tab files are a proprietary format for MapInfo software. Similar to shapefiles, they require a set of files to represent geographic information and attributes.
.dat files contain the tabular data associated as a dBase .dbf file
.id files are index files that link graphical objects to database information
.map files are the map objects that store geographic information
.ind files are index files for the tabular data.
Back to our "Roads.gpx"… which is a .gps Exchange format.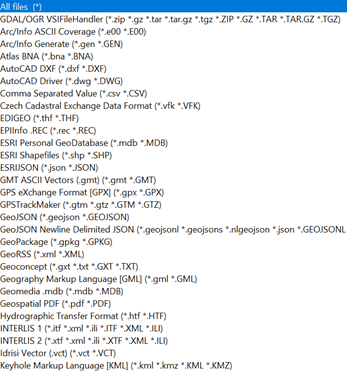 See https://gisgeography.com/gis-formats/  other common vector types.
If all else fails, a Google search can usually uncover some less common formats.