False Colour Leads to the Truth About Burnt Areas
Remote sensing was used to fight and recover from the recent bushfires on Kangaroo Island.
Firefighters, farmers and ecologists needed up to date burnt area maps to plan firebreaks and protect animals. Boone Law (Adelaide University), responded by using free, multi-spectral Sentinel 2 satellite imagery. This has a 5-day revisit frequency and 7-hour preparation delay.
On receiving new imagery, Law required an additional two hours of processing to update a false colour map, using the Normalised Burn Ratio algorithm to assign red shades to burnt areas.
Spatial science fights fires in near real time.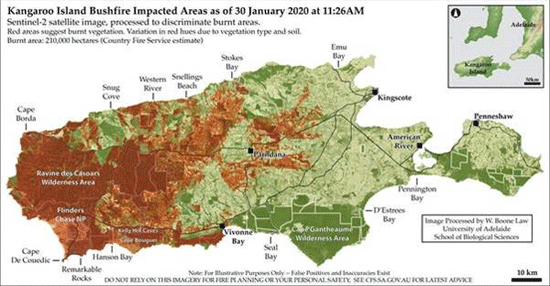 Source: Spatial Points, accessed 11/6/20, http://www.spatialpoints.com/2020/02/04/visualising-burnt-area-impacts-on-kangaroo-island-with-satellite-imagery/