New Feature for X-Info Aware – Report
A new feature has been added to X-Info Aware that allows users to report any problems or issues they may be experiencing from within the X-Info Aware app. A form is launched for you to complete which lets you add general and specific details about the issue. When submitted, the Mipela Support team are immediately notified and can investigate using the information provided.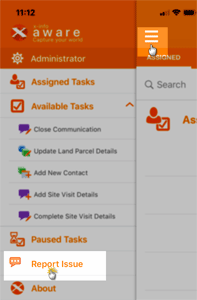 To Report an issue, select the system Drawer.
Scroll down or collapse the list of tasks and select 'Report Issue'.
A form will be displayed for you to add the following details:
X-Info Aware Tab – details which tab you were on when encountering the issue
Task Name – this only applies to the Assigned and Available tabs – select the name of the Task you were working on
Field Name – again applies to the Assigned and Available tabs – select the name of the Field the issue refers to
Problem – defines a general category for the problem, for example Cannot Open
Steps to Reproduce – allows you to enter the steps you went through to the point you encountered the issue
Connectivity – defines the type of connection you had at the time of the issue, for example Mobile
Additional Information – this is your opportunity to add any images or screenshots as reference information.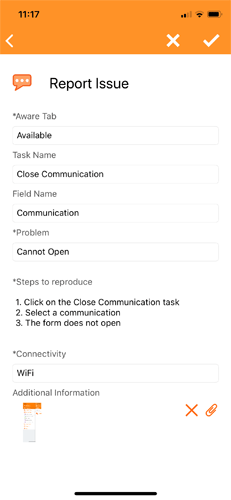 The form will be submitted by https, however users can change this to send by email (you'll find this in Settings). It's worth noting that when email is selected, the default email account configured on the device will be used.