We have been firing out new feature releases regularly, but this one is fast becoming a favourite for X-Info DBYD suite clients who were first in on this gem.
X-Info DBYD suite portal is a new browser based user interface that provides users with a simple to use, intuitive access to their DBYD enquiry information in real-time. It now also offers a wider variety of reporting and contextual activities for users to capture and store email, phone call and meeting based communications associated with any enquiry.
There is also a new intuitive manual response processing workflow and the option to add a Permit Management System and integrate a mobile data capture app, X-Info Aware, to provide end to end workflows to support asset owners that want to manage their incoming enquirers and reinstatements after ground has been broken.
The new X-Info DBYD suite portal will enable a larger groups of users in your organisation to access information on ground breaking activities that are happening in your area of registered interest.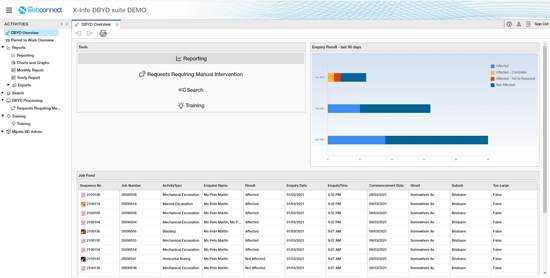 For our traditional X-Info Map software fans, you can still access X-Info Maps – that hasn't changed!
Upgrading to the portal has commenced. If you would like to have access to this new interface and have not yet spoken with us, please call Jacqueline Button on 0422 223 033.