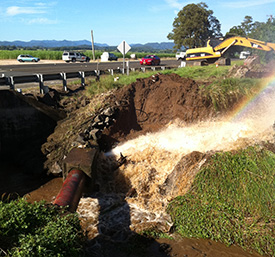 Challenge:
Tweed has historically completed DBYD requests in-house manually. This worked well for a small number of enquiries but as the number of enquiries grew this task became a full-time job. Council needed to free up the human resource and the automated digital solution provided the added benefit of not needing to have a fall-back when the staff member took any leave. In addition to this, all DBYD enquiries will be responded to much quicker than we could manually process them and they will provide consistent content, which was an issue with manual processing.
Solutions:
Mipela GeoSolutions proposed that Tweed Shire Council implement X-Info DBYD to assist with reducing enquiry response times and risk mitigation. The solution was straight forward, and easy to implement, with both Mipela GeoSolutions and Council working together to produce the solution.
Result:
This is now one less worry we have within Council. We have the confidence that the processing will occur in accordance with our business needs without our intervention. We can view and access reports on a needs basis and we have freed up one full-time human resource that can now concentrate on other important tasks for Council.
Tweed Shire Council
Tweed Shire Council's X-Info DBYD implementation
Tweed Shire covers 1,303 square kilometres and adjoins the NSW Local Government Areas of Byron, Lismore and Kyogle, and north to Coolangatta on the Queensland border. Tweed Shire Council asset coverage extends from treatment plants to reticulation systems, which covers approximately 550km of sewer mains, 600km of water mains and further storm water assets. These assets are registered with Dial Before You Dig (DBYD) 1100 phone and internet request service, as a way to protect their asset and community safety.
Mipela GeoSolutions spoke with Tweed Shire Council's Water and Sewerage Operations Engineer, Peter Haywood, to discuss implementing X-Info DBYD to protect Council's assets.
What was the deciding factor to implement X-Info DBYD?
We found Mipela's solution to be the most attractive offer because of the overall cost, very low processing fee and demonstrated experience with similar clients. Council chose the cloud hosted solution and found the setup process to be simple.
In your opinion, what was the most challenging issue implementing the automated X-Info DBYD system?
Ensuring the final display looked professional took some time. This was a matter of communicating our needs and checking the results. Mipela were very understanding during this process and allowed us to make a number of changes to suit our needs. Tweed's symbology and legends were complex and Mipela were accommodating for the level of detail we needed.
Are you satisfied with Mipela's Implementation Process?
Mipela staff were outstanding during implementation. They worked well with Council staff in a defined step by step process of implementation. Late changes occurred and this did not faze Mipela who reacted very quickly.
What is your favourite feature of X-Info DBYD?
The fact that X-Info DBYD is automatic means the customer will receive a professional and consistent reply within minutes. This is a good selling point. The cloud solution allows all the benefits without any internal hardware to worry about. It's a simple to use web interface.