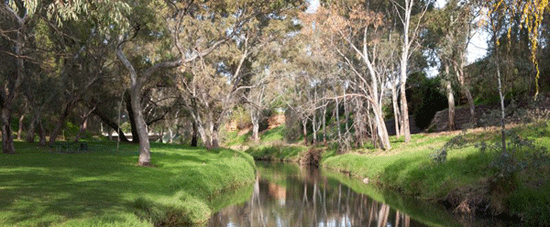 Waterproofing Eastern Adelaide is being delivered by the Eastern Region Alliance (ERA); an alliance of the six councils in Metropolitan Adelaide's eastern suburbs. The following three councils are directly involved in the planning and delivery of the project:
City of Burnside
City of Norwood Payneham and St Peters
Town of Walkerville
Easter Regional Alliance Water's (ERA Water) 49 kilometre pipe network is reducing the reliance of potable water from the Murray River for irrigation.
ERA Water's infrastructure captures storm water flowing down Third and Fourth creeks in Adelaide. This captured water goes through a treatment process and is stored during the winter months. In summer this stored and filtered water is distributed through the ERA Water pipe network to parks and reserves.
This drought proofs Adelaide's eastern suburbs by supplying an alternate source of water supply to participating Councils and provides a cost effective alternate to SA Water.
We are proud at Mipela to care for and protect ERA Water's pipe network with X-Info DBYD suite.
General Manager, Wally Iasiello said, "I was pleased with the support Mipela was able to provide in implementing an automated response system for our DBYD enquiries."
More information on this interesting water conservation project can be found here.