Q1: What are Activities in X-Info WebConnect?
A1:  Activities are the common things a user does, such as find a land parcel, add a communication, complete an assigned task, add a new contact or update contact details and assigning jobs to users. They can be customised for particular Users and Groups, so Users only see and access the information relevant to them.
With the use of Activities, we can set up overviews, dashboards, reports as well as design activities for specific users to manage their processes and workflow.  This makes their daily tasks more simplified by removing the additional steps and information that isn't needed to be seen.
Activities include Open, Search, Capture and Overview. Activities can be global, which can apply to all objects and data within the connection, or contextual, which only apply to the relevant object when it is selected from a global activity.
Global Activity
Global Activities are activities relevant to all objects and data within a connection. These activities are displayed in the activities panel. When a global activity is selected, the data is displayed in an activity tab.
Activities can be folderised into logical groups such as Search and Add.
Navigation tools and contextual activity buttons display along the top of the record.
An example of the new interactive Maps activities available in X-Info WebConnect, showing property details including layers made up of internal and extetrnal data and datasets.
Contextual activities can be included as buttons within the layout for easy access.
Contextual Activities
Contextual Activities refer to things that can be done for specific object types (projects, entities, linked entities, contacts, associated contacts, communications etc.), eg. updating or completing a communication or making changes to a current contact.
As per the above diagram, these activities are displayed as a button in the toolbar when the related object is selected.
Q2. What are Navigation Tools?
A2. Navigation tools allow you to:
Go back and forth between pages
Go up and down a list
Print the record/page you're currently in
Save changes you've made to the record
Undo any changes you've made (this will take you out of the record completely and abandon any changes made).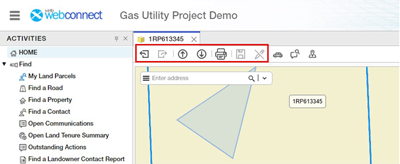 Q3. Should I be using a certain browser for X-Info WebConnect?
A3. We recommend using Google Chrome or Microsoft Edge for X-Info WebConnect for optimal performance.
Q4: What if I don't have any Activities set up, or I want to make changes to my existing ones?
A5: Please log a request with Mipela Support to arrange this for you.
If you would like further information or assistance please contact the Mipela Support Team at support@mipela.com.au.