As we're kicking off a few major projects in 2021, we have had a few new starters join the Mipela team this quarter.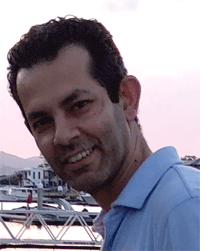 Sina Ebadi – Products Team Lead
Sina joins us as Products Team Leader, replacing of Simon Bobeldyk who after 9 years with Mipela, is now off to Travel Australia. Sina is a Software Engineer with over 20 years' experience in Software Development. He studied Software Engineering at the Bahai Institute for Higher Education – an underground University for Bahai's who had no access to higher education in Iran, a degree that is recognized all over the world.
He undertook a range of roles in Tehran, Iran including Team Leader and Solution Architect in the Software Engineering & Geography industry before moving to Australia in 2014 to complete his MBA with Bond University. With a wealth of knowledge, Sina will play a key role in helping Mipela to deliver more innovative and robust solutions to our clients.
Outside of work, Sina is a devoted husband and father to his two daughters (aged 2 and 4) and has a keen interest in Artificial Intelligence and fixing luxury Mercedes Benz Electronics and Computer parts.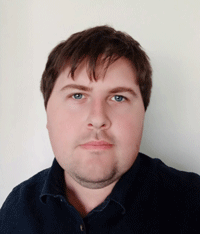 Robert Collett – Solution Specialist
Robert joins Mipela as a Solutions Specialist, hitting the ground running as part of Mipela's Dial Before You Dig project team. After completing a Bachelor Economics and IT at Queensland University of Technology (QUT), Robert spent four years as a Business Analyst for Zarraffa's Coffee where he also got to undergo Barista Training – a skill well utilised in the Mipela office. He tells us the secret to a great latte is in how much air you put in the milk.
Outside of work  Rob enjoys watching sports (NRL, Gridiron and NBA) and taking day nature trips with his wife and their miniature fox terrier. Rob says he used to be a terrible public speaker, however managed to combat the fear with the help of watching comedians and learnt it's always possible to overcome your worst fears – a great reminder to all of us to try something new, even if it scares you!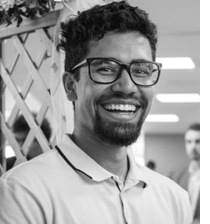 Sam Liyanage
Sam recently joined us a GIS Specialist to assist with a client project.
Whilst completing his University studies, Sam worked part time for Moreton Regional Council as a GIS Officer, turning to full time once he had completed his studies.
Pre Covid – you would find him four wheel driving. Though, when asked of his special talents, he said. "Do you count breaking things on my car as a talent?"
A notable achievement for Sam was purchasing his very first home with his fiancé and two dogs at only 21 years of age!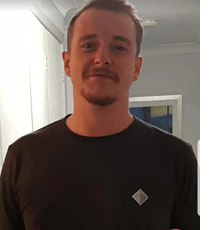 Matthew Favento – Software Engineer
Matthew Favento joins the Mipela team as our newest Software Engineer.
Previously Matthew has worked for a real estate valuation software company and has most recently spent some time freelancing.
When he's not developing software, you'll find him keeping fit with Brazilian Jiu Jitsu or going to gigs and making beats. He recognises that the ability to constantly listen to music while he works is a big perk of working as a developer.