An updated version of X-Info Aware 2.4 will be available by the end of the month on Google Play and the Apple app store. The update includes the following features:
Support for iPhone11 and iOS 13
IOS 13 and iPhone 11, 11Pro and 11ProMax are now supported for IOS devices.
Logging in to the X-Info Aware app has been updated to allow for different authentication methods. The process has been updated for users to enter a simplified URL address to connect to.
Updated System Drawer Settings
The system drawer now includes some new options and updated Settings.
This includes a Logout option so Users can logout of the current connection.
The Report Issue function is also available which allows users to report any problems they may be experiencing in the X-Info Aware app. A form is launched to easily provide details of the issue, which is sent to Mipela Support team for investigation.
The Settings have been refined for users to provide access to relevant configuration tools for using X-Info Aware for their device.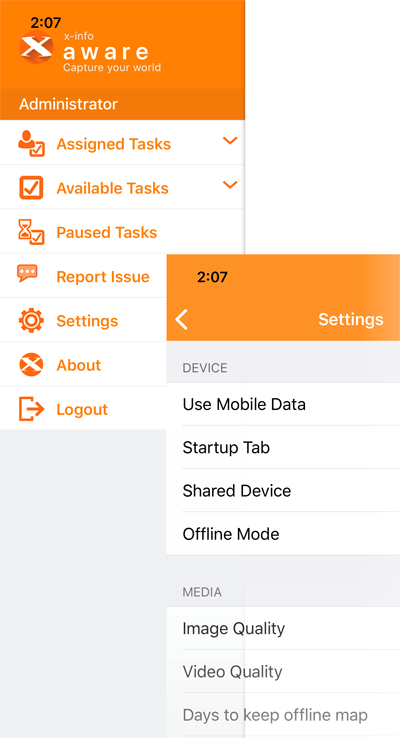 X-Info Maps and X-Info DBYD suite version 6.0 has just been released. The Support team will be in contact soon to arrange an upgrade. The update includes the following new features:
Support for 2020 Projections
X-Info Maps now supports datasets with 2020 Projections, for example GDA2020 which aligns with the new continent-fixed datum which will bring the coordinates of Australia's mapped features back into line with global systems.
ESRI Mapping Services Supported
ArcGIS Server map services host map data in cached (tiled) or non-cached (dynamic) format. For ESRI Mapping Services, sets of raster (imagery) and vector (feature) data are consolidated into layers and made available as one web service. ESRI Mapping Services for both features and images can now be imported into X-Info Maps and X-Info DBYD suite using defined URL's to display these layers.
WMS/WFS Support
Enhancements have been developed to support current versions of WMS and WFS layers. Additional UI has been added to control versions and axis order for WMS and WFS.
Updated Libraries and Projection files
Libraries such as GDAL (Geospatial Data Abstraction Library), Proj4 and SQLite have been updated to provide enhanced support for geospatial data formats and over 6,000 registered projections.
Enhanced Active Directory
Active Directory authentication has been enhanced to support Azure AD over OAuth2 for users to login to X-Info Maps and X-Info DBYD suite.