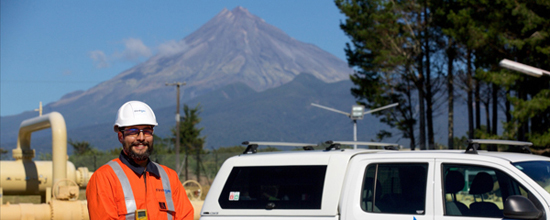 Based in the energy rich region of Taranaki, First Gas supplies gas to more than 65,000 customers across the North Island of New Zealand.
First Gas owns and operates more than 2,500kms of high pressure gas transmission pipes and nearly 5,000km of gas distribution pipes that supply natural gas from the Taranaki region to industrial consumers throughout the North Island.
Earlier in 2017, First Gas engaged Mipela GeoSolutions to provide a comprehensive Lands Management System to help them manage their extensive property portfolio and its associated stakeholders. First Gas were looking for a solution that could automate the day to day management of its easement database, land and planning (risk assessment for owner/operator, visit and permit history) and to capture all associated information for their annual landowner contact program. Integration with First Gas' existing GIS system, ESRI, was integral to the success of the proposed solution.
Mipela successfully implemented X-Info Suite to manage the Lands and Permit business functions at First Gas. This solution offers key workflows and automated processes that align to the nominated business procedures. First Gas have also embraced the opportunity to further optimise their business moving forward in a flexible and hassle free manner.
The implementation of an Automated Response System for their Before You Dig enquiries for part of their distribution business was also delivered. This solution is now protecting distribution assets with timely and detailed responses. This has enabled First Gas to refocus resources to pro-active asset management, rather than administration tasks.
Since GoLive of X-Info Suite, First Gas has noticed positive enhancements in operational efficiencies, reducing landholder update timeframes from one hour to five minutes.
The First Gas standard of data integrity has been clearly defined and is maintained by applied user security and live feeds from point of truth data sources such as GIS property. This ensures that the business can validate the information generated from the X-Info Suite and trust it to support their decisions and workflows.
The availability of on demand and templated reporting has ensured transparency companywide to key business information from the Lands Team.
Future strategies for field mobility solutions using X-Info Aware will see First Gas move core information seamlessly through the business from field to office to GIS to third party owners.
"The future potential application of X-Info for lands management is exciting and will provide a one stop holistic management tool for all First Gas land stakeholder management," said Anthony Joines, Land and Planning Manager, First Gas.