X-Info Connect and X-Info WebConnect 6.0 includes the Map Activity component, which contains several significant features to enhance both configuration and User experience.
Some of these features include:
Map Activity
A Map Activity works the same as Search Activities, but data is displayed in a map.
The map provides a simplified approach to viewing and updating data, where users can visualise where the objects exist and use associated data to assist with daily activities.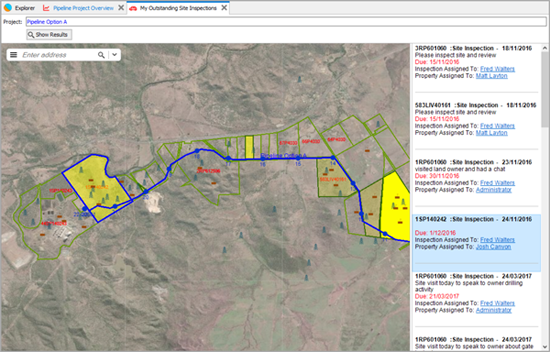 External Datasources
Data from external sources can be used within the map. A range of connection types are available, such as ESRI Rest Services, Shape and TAB files, Post GIS, WMS, WFS, SQL Server, Spatialite and others.
This provides tools for Users to view and query information from a range of sources for improved decision making.
Validation of datasources can be monitored by scheduling an emailed report to ensure data connectivity is successful or any failures can be addressed.
X-Info Maps Import
Current X-Info Maps projects can be imported directly to X-Info Connect as a Map Activity. This will add the data as external datasources and the projects folder structure and spatial layers will be organised in the map.
This makes the process of migrating X-Info Maps configuration into X-Info Connect straightforward  and efficient.
Links
Links can now be configured in certain areas to provide quick and easy access to information from other sources. Reports, Map Activity and Layer search results can include links to internal and external objects or data, such as another land parcel, a user or contact, an external file or a website.