X-Info SMS suite (Safety Management Study) is specifically designed to provide pipeline owners with a comprehensive system that can manage their tasks associated with the operation, maintenance, suspension of operation, decommissioning and abandonment of their pipelines. In addition, X-Info SMS suite also manages data relating to any proposed transmission pipeline asset projects AS2885 workflows, quality control and reporting.
Why use X-Info SMS suite?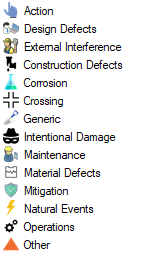 Pipeline owners use X-Info SMS suite to gather, store, display and report on information pertaining to design, safety and operational related hazards that cause or are capable of causing loss of pipeline integrity associated with the pipeline infrastructure (as set out in AS2885).
New Assets – X-Info SMS suite can provide a full pipeline safety management study.
Operational Asset – Safety management study reviews (five year Workshop style review).
Change Management – Local adhoc reviews as necessary for specific issues, for example new crossings, excavations, new tie in points, change of location class (development.
How it works
Threat library
Uses pre-configured threats for common crossings. Add specific physical and procedural protections unique to your asset. Threats can be associated locations via point and section geometries. Non-location threats are also captured against the entire asset.
Actions
Assigns actions to field teams to complete – reminder emails automatically notify responsible parties.
Risk Assessment
Where a threat is identified as "credible" and failure is possible, the risk MUST be managed to ALARP (As Low as Reasonably Possible). X-Info SMS suite guides participants through an Initial Risk Assessment workflow and Residual Risk Assessment to reach ALARP.
Case study
Specific details have been removed for confidentiality purposes.
Three pipelines

Pipeline A – approx. 5km – 97 threats
Pipeline B – approx. 200 km – 552 threats
Pipeline C – approx. 5km – 61 threats

456 crossings
727 threats
80 follow up actions
SMS workshop completed in 2 days.