Last year two of our Mipela team, Hine Laban and Alana O'Connor participated in the APGA Women's Leadership program. Due to COVID, this event was held virtually.
In June this year they were able to meet other members of their cohort for a bonus in person session, facilitated by the talented Gretchen Gagel. It was a great opportunity to meet other women in the pipeline industry, including some clients, and to learn about building trust and credibility as leaders.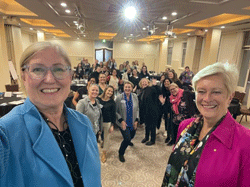 The following day, the wider Women in Pipelines Forum (WPF) held their first in person event, inconveniently scheduled for the morning after the APGA dinner. After a session on personal branding and how it can be used to advance their careers, the ladies heard from Dr Vanessa Guthrie, who has been a pioneer for women in leadership roles in mining and holds numerous board positions including with Cricket Australia.
Both Hine and Alana made new and established old connections, learnt new skills and are excited to see where the WPF goes in the future!